Heading out for a meal with kids can be both an adventure and a time for parents to take a break. Of course you probably know of Twinkle, Liliput and Minimars, but here are some other options you may not have heard of before. Happy exploring!
Xuhui
Cloudkids 云宝贝亲子餐厅
A child-friendly restaurant in LuOne, with a padded play area, dress-ups, a mini slide and a ball pool. If you're looking for a safe and spacious place that allows your little monkeys to go wild and a comfy place for you to relax, this place has you covered.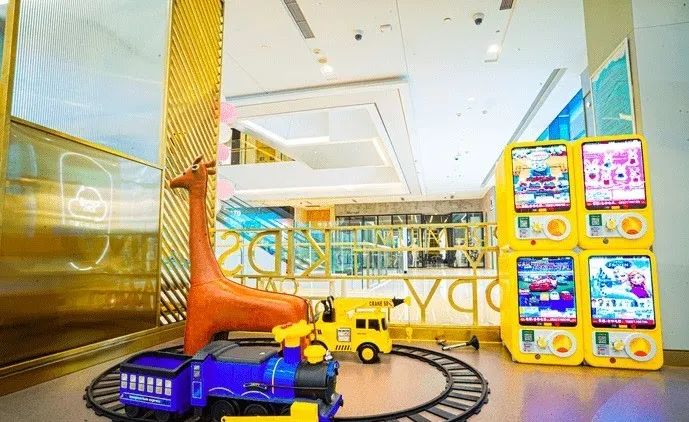 Location: L2-12, 2F, LuOne Shopping mall, No.268 Xujiahui Road, Line 9/13 Madang Road station, Xuhui district
Contact number: 13917841093
Putuo
Ant&Grasshopper 安蚁集法式亲子餐厅
It is every kid's paradise,  including rope nets for climbing, mini dressing rooms, mini kitchens and more. The French chic style space – brimming with bright and colourful decor – affords stressful parents a rest with delicious fusion food to savour while kids are too busy exploring the indoor play zone.
Location: L214, 2F, JOY CITY Shopping mall, No.196 Daduhe Road, Line 13 Daduhe Road station, Putuo district
Contact number: 021-61245877
Changning
Thomas The Train Themed Restaurant 托马斯小火车主题亲子餐厅
It is the first Thomas themed kids cafe in China , just like other kid-friendly restaurants, it offers a playground and great children's meals. Kids can run wild or hit the playground, to discover the magic of Thomas & Friends.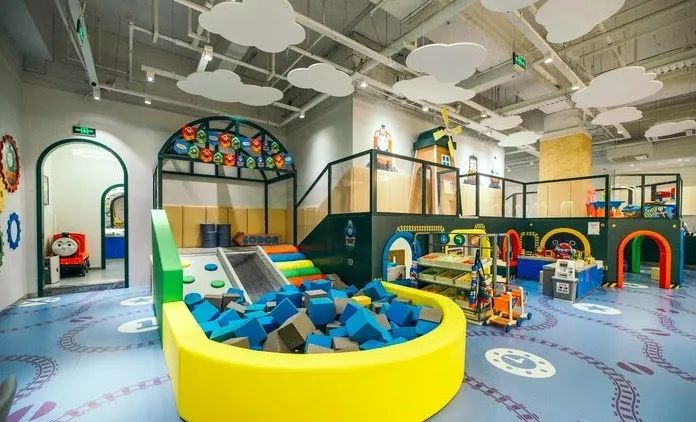 Location:  No.179 Maotai Road, Line 2 Loushanguan station, Changning district
Contact number: 021-52359314
Hongkou
Well designed members' lounge, bespoke play area, family-friendly café and a spacious outdoor terrace make Maggie & Rose a great family club, where you don't need to worry about the crowds on weekends. It follow the business model of the three clubs in London, Kensington, Chiswick and Hong Kong, the club integrates early education, parent-child restaurants, parties and global baby retail, and creates a personal home theater, gym, beauty spa and children's creative haircuts that meet the needs of modern urban families.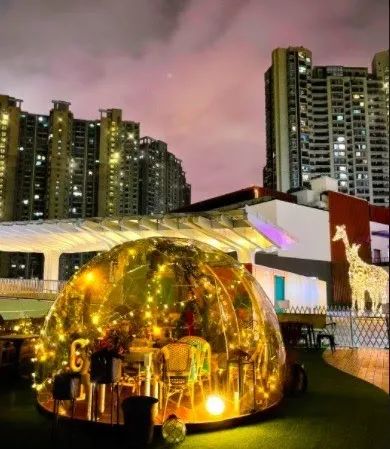 Location:  No.305, 3F, 188 Ruihong Road, Moon Bay Shopping mall, near Line 4 Linping Road station, Hongkou district
Contact number: 18555040105
The Care Bear themed kids cafe opened in December 2020, and it features well-loved characters from the cartoon shows. Located on the banks of the Bund, Kalidico offers a rainbow of activities to enjoy together including interactive games, exclusive shopping, and an inspired dining experience.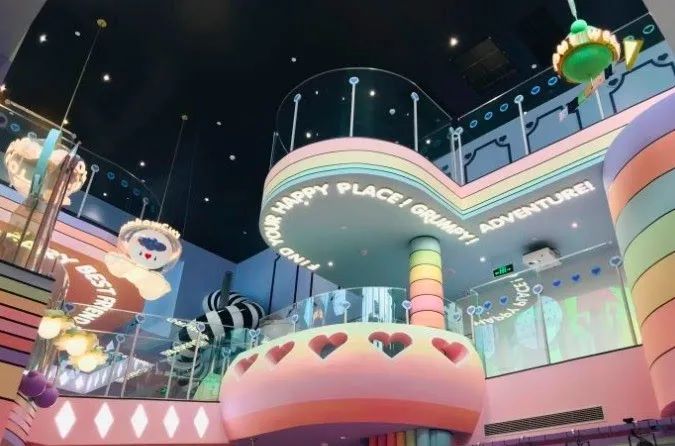 Location: 3F, Sinar Mas Plaza, 501 East Daming Road, Line 12 International Cruise Terminal station, Hongkou District.
Contact number: 021-65230908
Kissin Box (Ocean Theme Restaurant) 开心盒子
Get an up-close look at the stingrays, hand-feed fish, touch the starfish and enjoy food and drink, you can get all from here without a long trip to the aquarium. What better way to spend a half day with the family than explore the marine life in Kissin Box.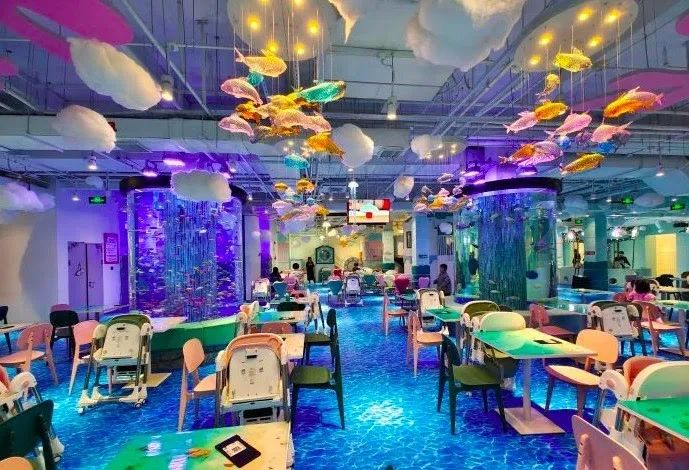 Location: No.40 Wenshui Road, Line 1 Wenshui station, Hongkou District
Contact number: 021-61421032
Minhang
This restaurant is owned by CARTOONY, a chain arcade game centre, so it features everything you need to keep the kids entertained, including a full-service restaurant, fishing pools, trampolines, mini kitchen, arcade games.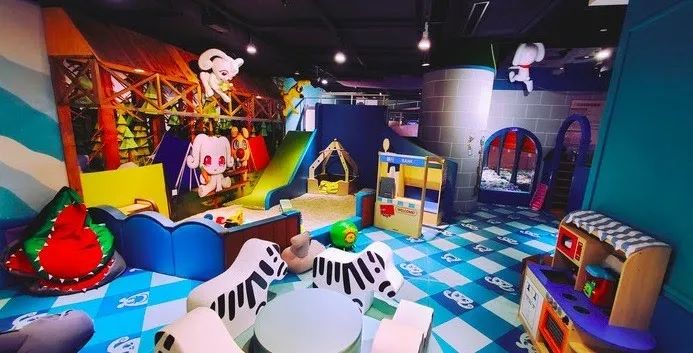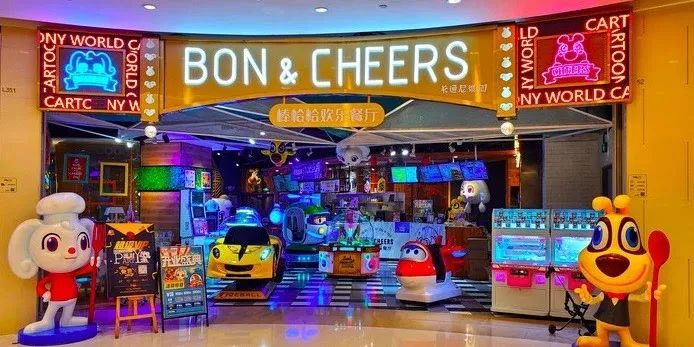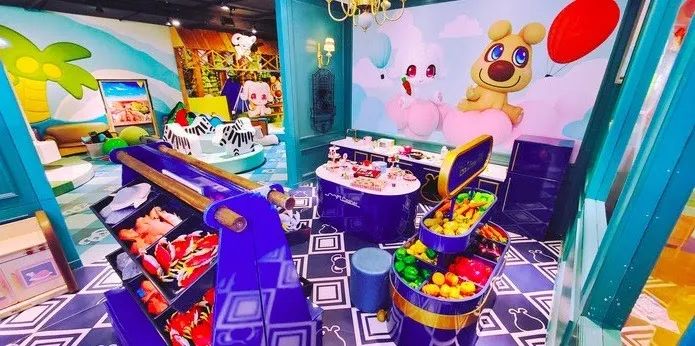 Location:  L352, 3F, The MIXC Shopping mall No. 1599 Wuzhong Road, near Line 10, Ziteng Road station, Minhang District
Contact number: 021-64886526
Carton King Restaurant 纸箱王纸火锅主题餐厅
A cardboard themed restaurant located inside the MJ389 Creativity Park in Minhang, the furnishings, decorations and crockery are all made of corrugated cardboard! Prepare to sit yourself on cardboard chairs at your cardboard tables and eat your meal from cardboard bowls. This whacky restaurant is part eatery, part museum, and part playground with a cardboard train can take the kids for a fun ride.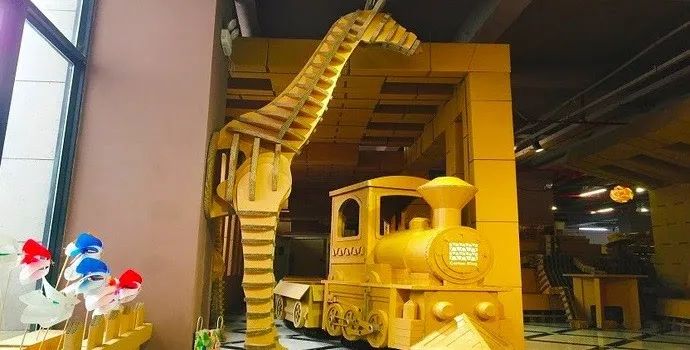 Location: No. 389 Lianming Road, near Line 9, Qibao station, Minhang District
Contact number: 021-64597250
Price: 50RMB for adults, 25RMB for kids
It is a pastel-hued world of balloon and cloud shapes that decorate the various activity areas. There are balls, sand and toys, and different shaped crawling tunnels lead from area to area.
Location: No.5, Building, No. 3788 Duhui Road, near Line 15, Shujian Road station, Minhang District
Contact number:  4008169988
Pudong
Neobio Pudong 奈尔宝家庭中心浦东
Location: L283,2F, South Area, Crystal Plaza, 388 Qianjiatan Road, Line 6/8/11 Oriental Sports Center Station, Pudong district
Contact number: 4008169988
Big Jing'an
This kids cafe has everything you can expect from a family-friendly restaurant and more.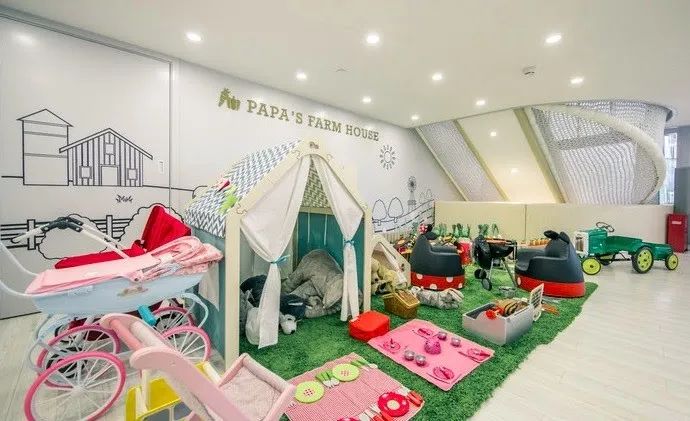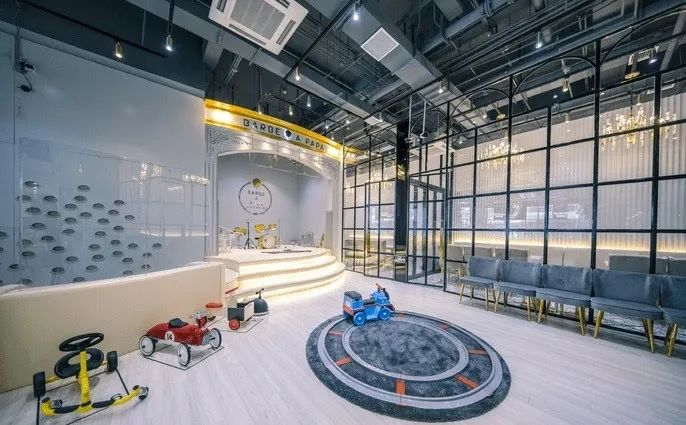 Location: 1F, Building No.5, IMIX PARK Shopping mall, 1111 Hutai Road, near Line 7 Xingzhi Road station, Jingan district
Contact number: 021-66272096
Price: 138RMB and up for 1 adult +1 kid
Qingpu
It is a farm to table concept store, also a mix of kids friendly restaurant, beautifully designed indoor garden, two play areas for kids, fashion booths. You will love the unbeatable combination of alfresco seats with fresh air and great food and drink.
Location: D5-011, Lidoway Village, 1309 Xiewei Road, near Line 17 Zhuguang Road station, Qingpu district
Contact number: 021-24150789